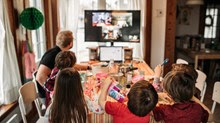 In Partnership with Gloo
Empower your people. Mobilize the church.
Matt Rogers
How a third century bishop's response to the plague inspired the church.
Morgan Lee
Obituary
The famous apologist was 74.
Daniel Silliman
How a tour through his private living quarters helps us better understand his public responsibilities—and ours.
Leslie Leyland Fields
Theology
The German reformer would call COVID-19 an "alien work of God."
Ron Rittgers
Read in full the famous reformer's advice on Christian faithfulness amid pandemics like the coronavirus.
Martin Luther
How God got my attention when I thought I was too good for grace.
Kamesh Sankaran
Mental Health
Identifying our fears can better help us pastor ourselves and others better.
Steve Cuss
Cotton Mather's response to an outbreak in his community was inspired by Onesimus's life story.
Morgan Lee
Can we find oxygen for exhausted souls in Song of Songs, of all books?
Nicole Massie Martin