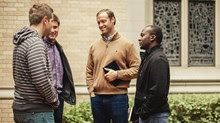 I don't wear a collar, but 'Father' is still the best description of my calling.
Steve L. Woodworth
Apologetics
The greatest apologetic for faith is embedded in the gospel message itself.
Jerry Root
History
Nevertheless, the saucy British writer made the pious vociferously angry.
Crystal Downing
Despite fearing its neighbor, the church won't stop praying—and organizing a massive church planting strategy—for the authoritarian country.
CT Editors
The popular North Carolina megachurch pastor takes over amid significant membership declines and a public reckoning over abuse cases.
Kate Shellnutt
Despite age gaps, Pew Research uncovers a few places where the next generation is actually more devout than their parents and grandparents.
Griffin Paul Jackson
There's more to the singer's faith than sunshine and blessings.
Gina Dalfonzo
A heart moved by the gospel will be stirred with empathy for others.
Costi W. Hinn