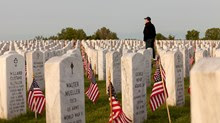 Memorial Day
Whether we wear a uniform or not, we all have sacrificial service to offer.
Roger Brady
As Christian Zionism influences US policy in Israel, Palestinian evangelicals seek greater acceptance from the American church.
Jayson Casper in Bethlehem
culture
Evangelism is not just convincing people the gospel is true but also that it is better.
Ed Stetzer
They have different responses to God. And He has different responses to them.
Jonathan Leeman
Teaching requires two things: a competent instructor and receptive students. Equipping and discipling require much more.
Karl Vaters